Jim Holyoak is a Montréal-based artist and writer. His discipline is comprised of drawing-installations and book-works, exploring the bridges and boundaries between perception and fantasy, humans and other animals, deep time and the present, the biological and the monstrous. Holyoak's drawings and ink-paintings range in size from postcards and zines to dense paper-environments, tailored to the architecture of the rooms that it occupies (galleries, museums, houses, studios, the Beaudry subway station in Montréal, and a cabin in the Laurentian forests of Québec.)
His work has been exhibited widely in Europe and North America, including the 2011 Québec Triennial at the Musée d'art contemporain de Montréal, the Yes, Naturally exhibition at the GEM Museum of Contemporary Art in The Hague, Tegnerforbundet (Drawing Association) in Oslo, and the DRAW:2014 International Drawing Symposium in Pittsburgh.
From November 2015 through February 2016, Holyoak attended the Conseil des arts et des lettres du Québec residency, at What about art? in Mumbai, India.

At the end of this residency, Holyoak embarked on a five-day trek into the Himalayas of northeastern India, to make plein-air drawings with his younger brother, Ben Bose, and the team at www.dzongrigoechala.com. The following is Holyoak's travelogue from this expedition.
SIKKIM
8pm February 14th Yuksom, Sikkim
Hello from a cold little hotel room in Yuksom. Ben is sleeping next to me. Outside it is silent except for a barking dog. Oh wait, here's a bunch more barking dogs. (I think I'll need earplugs again tonight.)
Ben and I have just spent three days in Darjeeling. It's an interesting blend of Himalayan cultures. Fresh air and dark skies at night. Much more mellow than Calcutta (where we acquired our Sikkim permits.) After a cable-car ride over the tea plantations, Ben and I went to the tourist centre.
There, with the help of a man named Mickey, we booked ourselves a guided trek (guides are mandatory when trekking in Sikkim), and ran around to all the ATM machines in the Darjeeling to get enough funds to pay for it. We are going to hike from Yuksom to Dzongri and back. This sounds like the most amazing hike we could do with the amount of time we've got.
Mickey, his son, his buddy, and the driver, picked us up in the morning and drove us across the border to Sikkim. On our way, we caught our first glimpses of Mt. Kangchenjunga. It is the 3rd tallest mountain in the world, but what impressed me was its incredible width. It is not only a peak, but a chain of peaks. It is a white, ghostly thing, floating on the horizon in hyper-clarity, like a hallucination.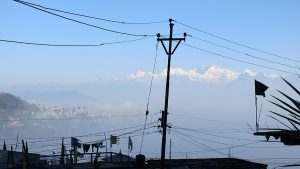 The drive from Darjeeling to Yuksom took seven hours, mostly along bumpy, winding, dusty roads, often with 90-degree cliffs at the edges. Sikkim definitely feels distinct from any other part of India.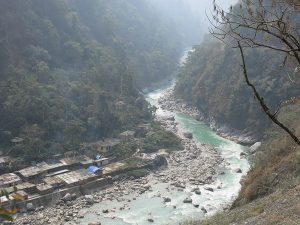 Here at Yuksom, we have met up with three young Limboo men, who are cousins, and who will be our trekking companions, along with six yaks, a yak handler, and the yak-handler's son (known as Yak-Boy.) The three cousins are Agam Sing and Song Sing (the cooks), and Sun Hang (the guide.) Ben bought a ball and we played catch with Agam Sing and Song Sing until Sun Hang arrived (the only one of the three who can speak much English.)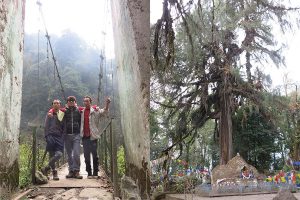 We had a big dinner. (Ben has gone vegetarian with me for his time in India.)
I just took my last shower for the next five days.
6:22pm, Feb 15th, Sachen, 2105 meters
Finally I'm way out, up in the mountains again. This is what I've prepared for and have been waiting for, perhaps most of all, on this four month trip in India.
And I'm so glad Ben is here with me. Right now, he's sitting around the campfire with Sun Hang, Agam Sing and the Yak-Boy. He's going through the photo-album on his iphone, showing them his pictures from British Columbia: his truck, his snowmobile, Trixie and Willow-dog eating snowballs, nephew Leo in a pumpkin, Mum holding Milly the puppy, the view from the top of the Port Mann bridge in Vancouver, Campbell River, Salt Spring Island, Green Lake, the Rockies…
We went to sleep early last night in Yuksom, and got up at 7am to begin hiking up in Khangchendzonga National Park. These guys are feeding us really well. Porridge and pancakes for breakfast. We walked for only about four hours today, passing through some misty, temperate, old-growth jungles. The trees there are old, with broad leaves and dangling vines. Cool air, big drops across a canyon. Dense deciduous trees rising up the misty mountains on the other side – nearly vertical walls. Stopped a few times to draw.
Very strange to have these guys setting up our tent for us, taking care of us all the time, feeding us (so well.) We are used to hiking on our own and doing everything ourselves. S'all good. Time for dinner.
(I will never be able to record the wonderful scent of the wild jasmine tree up the hill behind us.)
7:37am , February 16th, Sachen
Good morning. Ben is adding kindling to the fire, sipping tea.
I was toasty-warm the first half of the night, and awake shivering the second half. Before going to bed last night, I felt something pinching in my underwear, like an elastic band or a piece of gum sticking to my thigh. I kept adjusting my underwear, and feeling whatever it was reattaching to my thigh. Then I reached down and pulled out a huge tick. I dropped it on the ground, and Song Sing immediately picked it up and tossed it in the fire. Probably got it while chilling on the rocks, drawing trees with Ben.
This place is so beautiful.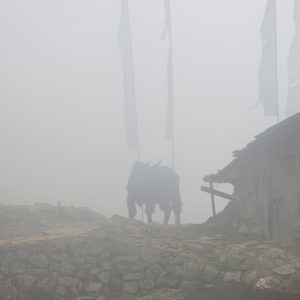 9pm February 16th, Tsoka, 2900 meters
In the tent by the light of my headlamp. Today has been awesome. What a beautiful, misty forest-hike. Great exercise and fresh air. Sikkim definitely feels like another country, apart from the rest of India. It is similar to Nepal or Tibet, but different from both. Our gang speaks Limboo. Although it seems impossible, Limboo's closest relative is Korean. This evening, after we got to camp, Ben and I hiked up the hill to draw, Sun Hang joined us. The three of us drew in silence until it was too dark to see. In some ways, I like their works more than my own
It's so peaceful and beautiful up here. There is a very particular ambiance. Something somber that appeals to me. It's super fun to be on a trip like this with Ben.
Time to sleep.
Goodnight.
Love Jim
6:31pm, February 17th, Dzongri, 3830 meters
Way up in Dzongri, in a little hut. There is fire. It is encircled by three cousins and two brothers.
Another beautiful hike today, out of the jungle, through Rhododendron forests, and into the high altitude. Lots of fog, but there have been a few gorgeous views of the white peaks.
They don't look real. Or they do, but they're hyper-real. They are like gods or goddesses or ghosts. But they're not ghosts. I've gotten a few decent sketches I think. Ben loves the yaks. We came across wild yaks today. The little Yak-Boy loves chasing them. They run with their broom-like tails straight up. They keep creeping up to our camp, looking to sneak food from the domesticated yaks.
I didn't sleep too well last night. I think it was the dinging of the yak and pony bells just outside our tent.
7:33pm. Oof! The smoke in the shack was too much for me. (No chimney.) Just took another anti-altitude-sickness pill. Got a pretty mean headache. Am now inside two sleeping bags, with a bottle of hot water by my toes. Kind of nasty tummy ache. Writing by candle light. Ben snoozing next to me. Gotta wake up at 5am tomorrow to go over the next hill and draw Kangchenjunga. Very sleepy. Stars are out.
6:25am February 19th, back in Tsoka
Yesterday was a tough one. Ben and I spent the night at Dzongri, in a wooden hut at something like 4000 meters above sea level. We went to bed very early, but I hardly slept all night. Altitude induced insomnia, (I've had this two nights in a row,) plus a mind-shattering headache. It felt like my head was going to explode. I took one and a half more anti-altitude-sickness pills, but it didn't help. Instead, I was inside two sleeping bags, wearing all my winter clothes, shivering, and sick to my guts. I put some earplugs in, took another half-pill, closed my eyes, and went into a delirium. Around midnight I heard, and felt, heavy hoofed steps on the wood floor. Ben was awake, watching the doors to our shack, when they were pushed open by a huge black shadow, and a wild yak walked into our room.
While trying to awaken me, Ben startled the yak, and I opened my eyes just in time to see him leave. I was so tired that I only got up to close the doors, but the wind blew them open again. I lay in bed and saw Ben run out the door wielding a big stick. He wacked the yak with it, the yak hit a barbed wire fence, turned around, and jumped up five feet, to the platform Ben was standing on. The next time I woke up, needing to pee, Ben had constructed a barricade at the door.
At 4am, Sun Hang woke us up for tea and coffee and popcorn, and then we hiked up to 4200 meters, to the Dablakhang lookout, where we watched the sun rise on an impressive 180 degree skyline of Himalayan peaks. To the south was a sea of fog over the plains of Bengal. It was cold. My head was pounding, and my fingers and toes were tingling. The sun lit up the snowcaps and glaciers like a light bulb. In a Chinese accordion sketchbook that I've been carrying for just that occasion, I sketched in the entire panorama of peaks.
I was in a tired, pensive mood during the day's descent back to Tsoka. We got some good photos. My legs were like noodles. Now my calves are incredibly sore. Lips completely chapped.
Ben instigated snowball fights on our way. At Tsoka, thick mists came up and enveloped the camp. I could barely stay awake to have lunch. After that, I took a nap for a couple hours, woke up, and sat with Ben, writing a stack of postcards until it got too dark to see. Then Ben and I chilled by a campfire until dinner.
Dinner was humongous and we had no appetite. I think they were overdoing it partly to snap some photos for their website, and partly to please us so we'd give an excellent review. (Well, they've got it: 10/10! If you are interested in doing this hike also, we highly recommend Sun Hang and his team, who can be contacted at: sunhanglimboo@rediffmail.com )
After dinner, they presented us with a 'Happy Trekking End 2016' cake, which we shared, and then Ben and I gave each of them a 500-rupee tip, including the Yak Boy. I think they were pleased with this. Sikkim is the richest state in India, but these guys don't seem rich. It is a rustic, hard-working living they've made up here.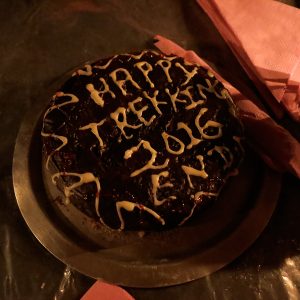 Ben and I went to bed early, and slept well this time. Ben looks like an enormous caterpillar – a cocoon emerging from a cocoon.
We'll be hiking all the way down to Yuksom today, and then driving back to Darjeeling tomorrow. Ever since I took the first steps down from the Dablakhang lookout, I've felt like my return home to Montréal has begun.