The Retreat at Bhimtal is a charming, family owned 19th-century colonial bungalow nestled among the Himalayan foothills of the Kumaon Lake District, Uttarakhand, India in the midst of an ancient cedar, oak,and pine forest covered estate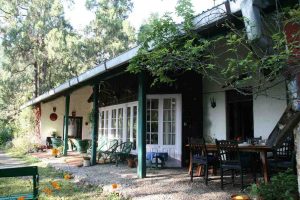 Filled with old colonial furniture, cutlery, and knick-knacks, the house breathes the atmosphere of old style comfort and peace. The family strives consistently against all odds to conserve the forest and wildlife in the area.
The perfect get-away for nature lovers, botanists and entomologists, bird watchers, yoga and meditation enthusiasts, trekkers, walkers, campers, couch potatoes, dreamers, artists, and writers….
Stress pots and workaholics – this is the perfect rehab for you. Enjoy the laid-back atmosphere of the olden days and renew your energies with great food, sights, trips and activities for the entire family.
ACCOMMODATION
They have on offer 3 bedrooms with attached bathrooms of which:
2 bedrooms have annexes which can accommodate 2 additional adults or children
1 bedroom with its own sitting area, which can be used for a spare bed
CUISINE
They offer either Indian or Continental dishes, as well as morning and afternoon tea. You can enjoy colonial cooking, as well as continental; vegetarian, vegan, and non-vegetarian.
Prepared with locally sourced, fresh ingredients, the food is delicious and wholesome. Be sure to enjoy their scrumptious breakfasts in the verandah overlooking the garden:
One of the pleasurable effects of the pure air and surroundings, you will find, is a heightened appetite!! And don't let it go to waste – indulge yourself with gorgeous home-baked breads, buns, and rolls fresh from the old Italian oven. Hot crepes dripping in cool, heavenly, syrupy fruit preserves, Fluffy apple pancakes with generously buttered centers, Mushroom, cheese, herb, or even the highly popular jam omelettes. Unlimited stacks of toast to devour with home-made jams, forest honey, local butter and healthy low-calorie spreads made with herbs from the garden. Seasonal fruit and berries, juices and fruit salads. Herb and cheese cutlets (also a vegan option) and many other scrumptious discoveries are waiting for you.
GETTING THERE:
By Road – If coming by car or taxi
The road from Delhi to Bhimtal is excellent with the driving time being 6 – 8 hours depending upon traffic and the weather. You need to take NH 24 upto Rampur where you turn left onto NH 87 which takes you past Kathgodam till the turn off for Bhimtal
The route from Nizammuddin Bridge in Delhi to Kathgodam will be Nizamuddin Bridge(NH-24) – Ghaziabad(NH-24) – Hapur Bypass(NH-24) – Gajraula(NH-24) – Moradabad Bypass(NH-24) – Rampur(NH-87) – Bilaspur(NH-87) – Rudrapur(NH-87) – Haldwani(NH-87) – Kathgodam.
Kathgodam to Bhimtal
About 4 kilometers after passing Kathgodam railway station heading towards Nainital there comes a fork in the road. Take the Right Hand side road which will bring you to Bhimtal.
Once you enter Bhimtal drive along the lake, which will be on your right, till almost the very end where you will see a U-turn (you can follow the signs showing the way to The Mountain Club Resort").
Take the U-turn and start the climb. The road is rather rough so do drive very carefully for about 2 kilometers. You can follow the signs for Mountain Club Resort. After 2 kilometers you will come to a set of large gate posts saying Fredy's Place. Drive through the gateposts and follow the signs saying "The Retreat" till you come to the old cheese factory where the road comes to an end. Come up the stairs on the left and you have arrived at "The Retreat".
TARIFF

ROOM RATES – In Indian Rupees / Per Night:
Standard double room: Rs 3,500 on double occupancy (inclusive of breakfast, morning and evening tea and a snack).
Extra adult/night: Rs 2,500 (inclusive of breakfast, morning and evening tea and a snack)
Extra child (Age 2-10 yrs): Rs 750 (inclusive of breakfast, morning and evening tea and a snack)
Infants below 2 yrs go free
HOW TO GET IN TOUCH
Mobile: +91- 81 710 31968
Landline: +91 – 5942 248 202
paddysmetacek@gmail.com